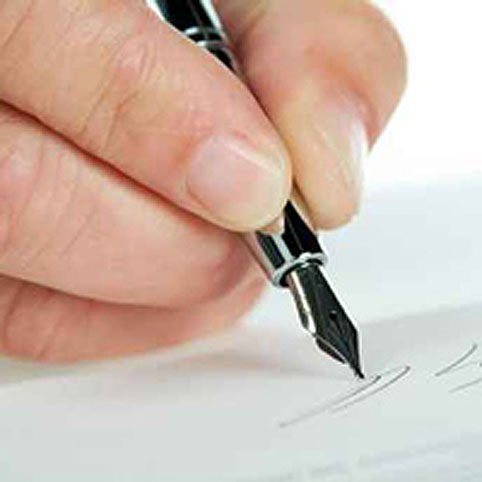 Last updated: 3 April 2014
CHEQUES AND PROMISSORY NOTES : ACTIONS TO TAKE IN CASE OF LOSS
At the end of 2012, we provided you a series of articles on the different means of guaranteeing receivables. Among these, we mentioned cheques and promissory notes as payment instruments that can secure the execution of a contractual obligation.
We decided to re-tackle this subject given that, in practice, these documents may be lost or destroyed and, consequently, we considered it useful to provide you with information on how to act in such a situation.
BACKGROUND CONCEPTS
The cheque is a written deed by which the holder of a bank account (the drawer) orders its bank (the drawee) to pay the amount mentioned therein to the beneficiary, upon presentation of the cheque to the bank. The amount mentioned on the cheque must always be available in the account from the moment the cheque is issued and until the receipt thereof.
The promissory note is a written deed by which the issuer (in this case, not a bank, but a company) undertakes to pay a certain amount to a beneficiary, at a certain date (due date); usually, payment is performed through a bank. Unlike the cheque, the amount mentioned in the promissory note shall be paid by the bank only on the due date, and not before. Consequently, the amount written on the promissory note must be available in the account on that particular date.
WHAT TO DO IF A CHEQUE / PROMISSORY NOTE IS LOST
Sometimes, these payment instruments may be lost/destroyed. In such a case, please note that there are special laws (Law no. 58/1934 and Law no. 59/1934) on the procedures to be followed in order to still benefit from the effects of these documents.
First, you must draft a cancellation request, to be filed with the City Court of the cheque/promissory note place of payment. The cancellation request must provide the information required by the law for cheques/promissory notes.
After verifying the cancellation request and the other submitted documents, the judge shall render a decision declaring the nullity of the cheque/promissory note and authorising its payment to the beneficiary within 15 days, respectively 30 days for the promissory note, from the publication of the decision in the Official Journal. The payment shall be operated within this period only if the decision is not appealed.
The decision shall be communicated to the bank and to the cheque/promissory note issuer and it shall be published in the Official Journal at the expense of the cheque/promissory note's beneficiary.