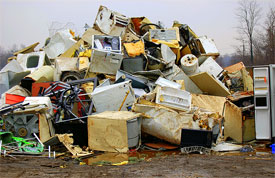 Last updated: 26 February 2014
Recycling, processing, valorising or eliminating waste are important obligations for the EU member states, aiming at insuring a safe environment.
By Law no. 211/2011 on waste, Romania has transposed Directive 2008/98/EC on processing and recycling waste. Thus, until 2020, Romania has to take the necessary measures so that at least 50% of the total waste such as paper, metal, plastic and glass found in household waste shall be recycled. As regards the recycling of waste from non-hazardous construction and demolition materials, it has to reach a minimum level of 70%.
These objectives were reaffirmed in the Waste Processing National Strategy for 2014-2020, adopted by the Ministry of the Environment at the end of 2013. The law also provides particular obligations for companies relating to waste management and recycling. These provisions are presented to you hereinafter.

WHAT ARE WASTES?

Wastes are substances or objects which are disposed or are intended to be disposed or are required to be disposed. Thus, wastes may take up multiple forms: plastic wrappers, cartons, pallets, batteries, vegetables, construction rubble, vegetable oils and drains etc.
There is a classification comprising all waste categories and each company is obliged to identify each type of waste generated by its activity falling within a category of this classification.
Moreover, all companies producing or holding such waste must put in place a sorting system. If the waste is not processed on site, companies must implement a selective collection system, especially for paper, metals, plastic materials or glass.

WHO IS DEEMED A WASTE PRODUCER / HOLDER?

Waste producers are companies whose activities produce waste, whereas waste holders are natural or legal persons who are in possession of waste.
Persons who process, sell or import products in Romania for professional purposes have the same responsibility as waste producers.
Thus, Romanian companies selling or importing packaged products are responsible for all the waste generated by the packaging... (Government Decision no. 621/2005).

HOW TO DELEGATE WASTE MANAGEMENT RESPONSIBILITIES? WHAT ARE THE RISKS?

Be it a waste producer or holder, a company must ensure the waste management in accordance with the legal provisions, registering the waste it produces/holds and sending these registrations annually to the National Authority for the Protection of the Environment (ANPM).
Moreover, these companies have the legal obligation to name among their employees an internal responsible for waste management; this person shall have to oversee the accomplishment of the legal obligations within this field by the company. This person has to have followed waste management specialized courses.
Nevertheless, the law allows the delegation of waste management responsibilities to third parties; these parties have to be persons authorised by the ANPM in order to carry out their activity within the waste domain. The list comprising these persons is published regularly on the ANPM website.
Please note that the failure to accomplish the obligations of valorising waste is considered an infringement and is punished by a very substantial fine: from 15,000 to 25,000 RON!