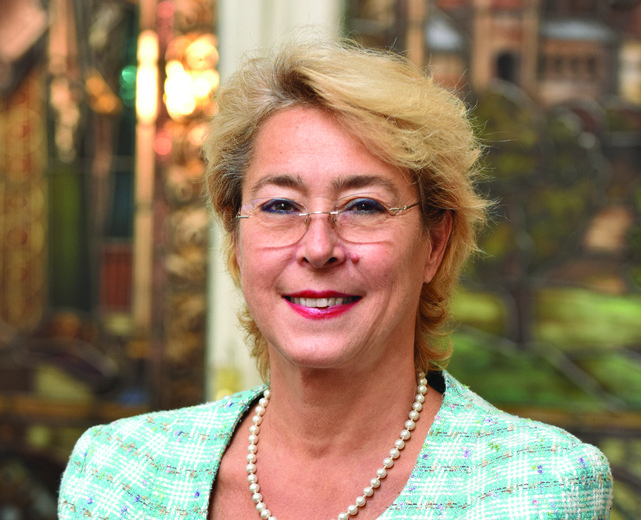 Last updated: 31 May 2021
You will soon celebrate the 30th anniversary of GRUIA DUFAUT Law Firm. Which are the milestones in the activity of the Firm?
Dana Gruia Dufaut : When I started practising business law in France, in the late eighties, I didn't expect that my professional identity will be shaped in Romania.
In 1991, I was asked by a big French company, Colas Group, to assist them in the process of entering the Romanian market and by June 1991 we were setting up a joint company which is still active. I took this invitation as both a professional challenge and an opportunity to witness, as a legal professional, how things started to change in Romania, the country I had left when I was very young.
It has been not only a mission accomplished on behalf a very important client, but also an experience opening unexpected horizons for a French business lawyer originating in Romania and set up the prerequisite for what was going to follow: opening a permanent office in Bucharest, besides the one in Paris, recruiting a team of young Romanian but also French speaking lawyers, signing in the Bucharest Bar as well, broadening and diversifying clientele and practice areas so as to cover both advisory and litigation.
In June 2021 I will be celebrating the most beautiful 30 years of activity in my professional career. I set out to offer something different in the legal services market, and time has proved me that I have made the right choice. It is the French business model that still differentiates us on the market. We remain mainly French-oriented, in the sense that we use French just as much as we use Romanian, even if in recent years our clients come from other areas as well.
We are not a big company and we have planned to settle to 20-30 persons, but we have the practice of an international law firm and we are able to provide services tailored to suit the needs of each client.
How has the Romanian legal market and society developed during this period? How do you explain that there are still nostalgic after the communist dictatorship?
Dana Gruia Dufaut : The business law market is but a mere reflexion of the changes in the economic environment and developments in technology. The transformations in this field have been as spectacular as those in society. Let's not forget that before the 90's there were no business lawyers in Romania. Basically, what Western Europe has built during the last 50-100 years, Romania has developed in the last 30 years.
The road is far from smooth, besides competition, Romanian law firms face the challenges inherent to globalization : the expansion of large international firms, delocalization of services, the development of new players increasingly efficient and difficult to elude, which are the legaltechs.
Society followed the same trend of high paced change.
Unfortunately, many of the transformations undertaken by the Romanian society in the last three decades have been poorly managed by the political establishment, so that many socio-professional categories have not got to enjoy the benefits of moving from a communist to a democratic regime, from a centralized economy to a market economy. The persistence of "communist nostalgia" is precisely one of the "costs" paid by Romania for poor management of the transition, along with the alarming rate of emigration of young talent or the vanishing of industries that could have been an asset in world economic competition.
From which economic sectors do your customers come from? How has the number of files / transactions evolved and their degree of complexity?
Dana Gruia Dufaut : Over the years, our portfolio counted clients from France and Europe who have invested in Romania in various sectors, from the automotive, manufacturing, IT industry, energy, infrastructure, to services and agribusiness.
We also provide legal services to a significant number of Romanian companies, some of them listed in the top of the most dynamic local companies.
We have grown with these clients, and we have diversified our areas of practice to suit their needs, even if the main strand of our activity is consulting services in the area of mergers and acquisitions, greenfield investments, public procurement and contract law.
If in the beginning our intervention was sought in joint-venture and privatization operations, especially after joining the EU we saw a growth of demand and provided services in areas such as: tax law, labor law, competition, European law, energy or litigation and commercial arbitration.
Lawyers live at the crossroads of challenges in the socio-economic and legislative environment, but also those raised by each project brought by the client. We adjust our services daily to suit their needs, but, above all, we try to anticipate what these needs will be and to be one step ahead of others.
How do you perceive the investment appetite of the assisted companies, in these tumultuous times, marked by the pandemic?
Dana Gruia Dufaut : The pandemic caused a variable contraction of activity among companies. As a consequence, the investment appetite was different, depending on the sector of activity in which these companies operate. While some of the clients were forced to close for several months and use various forms of support offered by the state, others continued to invest and expand. There were quite a few projects, but their size was significantly smaller. The innovation of this period, so to speak, was that everyone redefined their operational and expansion strategies, either by opting for a restructuring of activities or for an organic development of operations.
But the most important thing, in my opinion, is that the investment appetite is revived, and since the beginning of this year we have pretty good signals, even if we can not hope very quickly for a return to 2018 or even 2019, but we remain optimistic.
You are a significant presence of the French business community in our country, being a member of the board of the French Chamber of Commerce in Romania, but also an advisor to the French abroad for the Romania- Republic of Moldova constituency. What do you think are the values of French society and economy that we should embrace?
Dana Gruia Dufaut : I am part of several business communities, including the French one, and I therefore have access to many resources. I would not like to say that Romania must embrace the values of a certain society. However, Romania must fully embrace the values of democratic society, the rule of law, embrace European values, what we generally call the concept of welfare economics, which is based on the principle that the wellbeing of people is a value in itself, which is vital for both economic and productivity growth, promoting lifelong learning and business sustainability.
Finally, if I had to say something about France, then I would mention that it is the 7th world economic power, the 4th exporting power in the world, it is in the top 10 countries a source of foreign direct investment and it is in the top of the countries that invest massively in education and training.
The French economy relies on strong transnational companies in the field of services (such as Société Générale or Crédit Agricole), energy - with Total or Engie companies present in Romania, automotive (Renault and PSA), luxury industry (LVMH and Dior), cosmetics (L'Oréal), retail (see Carrefour) and examples can continue.
We must also, in Romania, invest heavily in education and training, in order to keep in Romania, this living silver that are talented and well-trained young people who can bring that much wanted bounce in the development of society.
How do you assess the current level of taxation in our country? What do you think about the recent changes to the legislation, and which are, in your opinion, the areas where further action should be taken?
Dana Gruia Dufaut : For foreign companies investing in Romania local taxation is still a strong point, but the subject of taxation itself remains a matter of debate. The changes brought to the fiscal and fiscal procedure codes, some of them long awaited by the business environment, have been a breath of fresh oxygen for companies.
For example, tax consolidation is, in my opinion, one of the most important measures, because it will allow companies in the same tax group to offset profits with losses and will pay tax only on the difference. The fact that the tax losses can be recovered faster from the profits of other companies in the group will avoid situations such as those known, when the losses would expire for not having been used in a period of 7 years by those companies.
Another good thing was the decision not to give up the unique tax rate of 16% or to speed up digitization of public services in the tax area. Let's not forget that over 80% of companies consider it useful to have a unique electronic system that allows them to perform all operations and expand the system of communication of documents exclusively electronically.
At the legislative level there is still much work to be done, not only other fiscal measures are needed, but also the current distortions and all kinds of exemptions that are difficult to implement must be eliminated.
You mentioned the subject of digitization. How much would court computerization contribute to expediting the lawsuits?
Dana Gruia Dufaut : Significantly ! First of all, computerization would allow a much faster communication between the participants in the act of justice, i.e., lawyers, litigants and the court.
However, it would also reduce the large number of postponements of cases pending before the courts, it would enhance observing the deadlines imposed by the courts.
Overall, computerization - which is a fact in most EU Member States - would streamline court proceedings to resolve cases within a reasonable timeframe. Things are starting to move in Romania as well, slowly, but they move, however the pace remains unsatisfactory.
The number of companies going in insolvency is expected to increase steadily in the following period. Do you share this forecast? In what areas will we have most of the insolvencies?
Dana Gruia Dufaut : The number of companies entering into insolvency or calling for insolvency prevention procedures, such as the preemptive settlement procedure, aimed at concluding an agreement with creditors to defer or reschedule debts is likely to be on the rise. In my opinion most of the companies that are likely to call for these procedures are going to be mainly those operating in areas hard hit by restrictions imposed by the State to control the COVID-19 pandemic, such as the HORECA sector, event planning, tourism, but also related fields of activity.
Where do you see yourself in 5 years, in terms of business size, customer scope and market positioning?
Dana Gruia Dufaut : The firm is very visible in the business community, especially the French speaking one, and this is primarily due to the team of lawyers, who have a good theoretical and practical background and who have been involved in numerous transactions in various sectors.
This experience gives us enough resources to meet the demand of the market. One of the main plans for the future is to strengthen practice areas.
We will continue to focus on M&A, public procurement, greenfield projects, real estate law, but we will strengthen skills and services in the field of new technology law, GDPR & data protection. Two of our lawyers already have an international GDPR certification, which allows us to provide state-of-the-art services in this field.
However, all future plans are linked to customer needs and market developments.
Our operation model gives us the advantage to be able to develop in changing and unpredictable circumstances, and our distinctiveness stems from the way we combine these three internal drives: focus, innovation, power of action.
How do you asses the conditions offered to Romanian and foreign investors by the local administration and by the Executive?
Dana Gruia Dufaut : Romania remains a country favourable for foreign investments, due to the size of the market, taxation, but also the facilities granted to investors. Besides, domestic law is compatible with European rules, so that any investment is safe here, the right to property is respected, as is the free movement of capital.
I believe that Romania continues to be the most attractive country in this area of Europe, but the authorities must not only start large-scale investments fuelling the economy as soon as possible, but also carry them out in optimal conditions, providing transparency and equal competition conditions for all companies. Romania must also take advantage of the new orientation of European foreign investors, caused by the Covid-19 pandemic, to transfer activities from the Asian area to the countries of Central and Eastern Europe. Concrete steps are expected in this respect, and I think we would all want to see new large investments such as Renault or Ford in other activity fields as well.
What is your message for the readers of Club Antreprenor?
Dana Gruia Dufaut : In time, I have had the opportunity to work with many entrepreneurs, heads of companies or CEOs, from the largest groups and companies to start-ups in Romania, France and beyond. Most of them came to me with a business idea or a problem to solve, with a business project to accomplish. I tried to give everyone the right solutions for them, but to do that I tried, first of all, to understand their business, the way they saw things.
I have many times felt that some of them sought the impossible, but at the same time, I knew that there is a solution for every problem.
The most important lesson I've learned in these 30 years is that if you want to grow you must look deep and see the big picture. You must always set high standards and ambitious goals in order to have something to fight for.
Under no circumstances should you stop or back down, you should train to anticipate and always be one step ahead.
And if, in the end, you stay true to the values you stand for, you can never lose. And, to paraphrase Winston Churchill, I would say that "we make a living from what we get but we make a life and business from what we give."
Interview published by in Club Antreprenor in May 2021